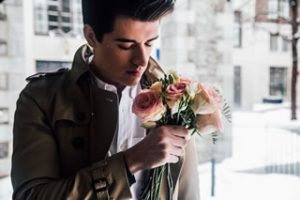 After about a year of being single I decided last month to dip my toes back into the dating pool. I've enjoyed my time being single but starting to miss having somebody in my life romantically. I was with my ex for eight years and the breakup was anything but amicable. That is a story I am trying to put behind me though so I'm not going to get into what happened with her. A lot has changed since I was single the last time mainly the explosion of internet dating. I wasn't sure where else to meet women also looking for a relationship so I figured the internet was going to be my best bet. I know my friend Dave met his current girlfriend online so I asked him for advice. He came over one night and helped me get my profile set up. Since then I have had three different dates with varying success.
Amanda was the first woman that I started to talk to. She is a vet tech and eventually wants to open her own veterinarian office. I figured right off the bat she had some bonus points with that as she could look after my dog Skip when needed. We talked over messenger and then on the phone for a few days before meeting up for a drink after work one evening. I was a bundle of nerves and she was too. It started off ok but about 45 minutes in I think we could both tell the chemistry wasn't there. After we parted ways that night neither of us have contacted one another and I doubt that is going to change.
Jill was up next and I am still talking to her. We decided on a movie as she mentioned that she really wanted to see IT. Horror movies aren't my thing but it did have good reviews so I agreed. The movie was surprisingly good and afterwards we went out for a nightcap. Jill works for her Dad who owns his own business. She is the office manager and according to her she'll be running the company one day. We have a lot in common including being big football fans. She casually mentioned her Dad has season tickets and when he doesn't which is about half the time she can use them if she wants. That definitely was a good thing. She said we might be able to go to the game next weekend if I'm free. She wants to take things really slow which is fine by me so we will see where things go.
The last woman I've met up with is Cheryl. She is a little bit older than me but you couldn't tell by the way she looks. She is an executive assistant for a CFO of a local business. She is divorced and has two kids. I wasn't really looking to be a step-dad but I get along with her so well that I am looking past it. They are in high school so it isn't like I'm going to be changing diapers or anything like that. I've only met them once and it was more or less in passing but they seemed nice enough.
I have to say that as it stands today I like Cheryl the most. It is getting to the point where it is sort of a struggle juggling my time between her and Jill. I'm going to have to make a decision soon and I can't say that I'm looking forward to it. Dave told me I'm lucky in that regard because it took him almost three months before he found his girlfriend.